Want to embed or create your online store on your Facebook page? Actually it's very simple! Our Store app allows you to display your products or services to sell directly from your page or to be redirected to your website for checkout.
Here's how to add a Store to your Facebook page
1- Install the Store App:
– First, you should install our "Store" application on your page, you will find it after typing "Store" in the search bar:

Then Select the page on which you want to install the shop.
2- Setting up your Store

Step

by

step tutorial
When first used, the tutorial will start automatically. You can also close it and configure your shop manually. Tutorial will always remain as a tab on the left-side menu.

First this will be displayed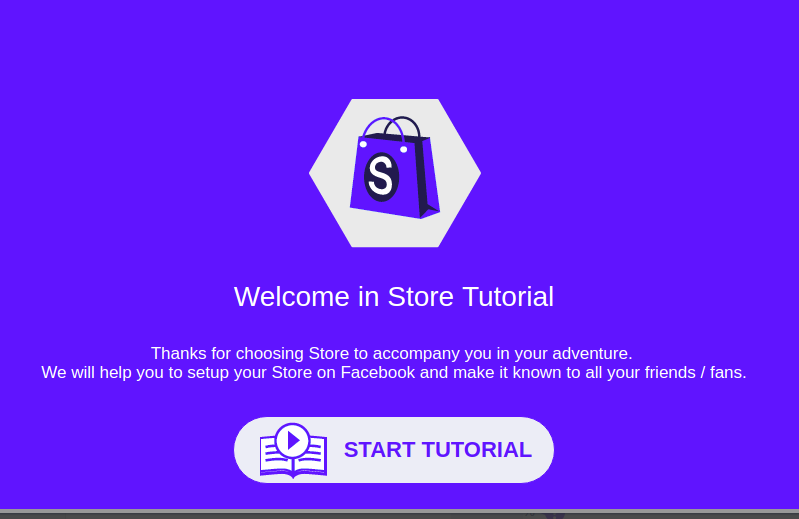 Then You will get the introduction as follows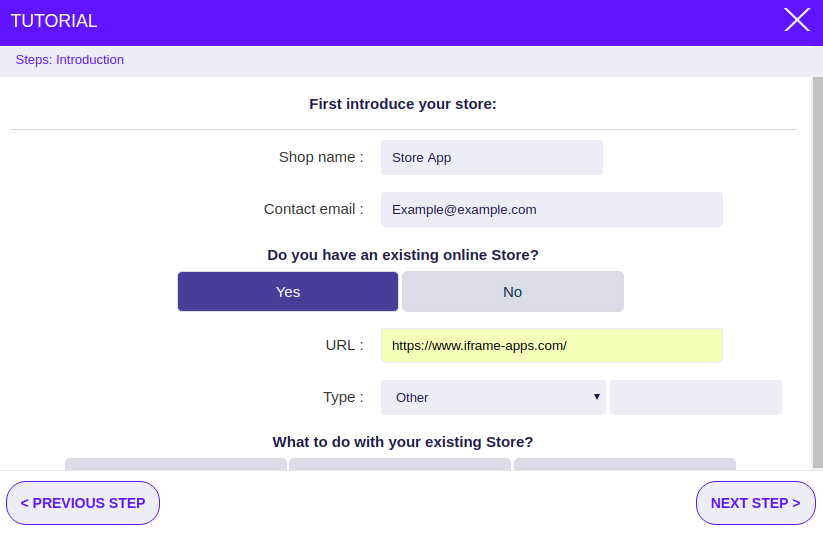 Where you should configure your shop name and your contact Email and some other details if you have an existing online Store.
Then you should enter some basic information about your Store like currency and other like payment gateway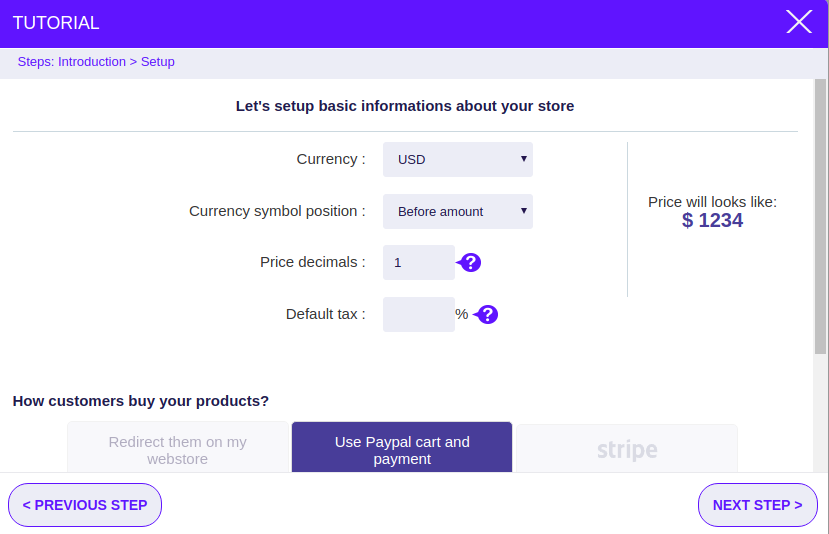 After that some shipping and Stock management options and set-up.
Afterwards this pop-up will be shown for filling your Store whether through a CSV file, manually or through your website if you have one. Then you will be able to fill your departments with products.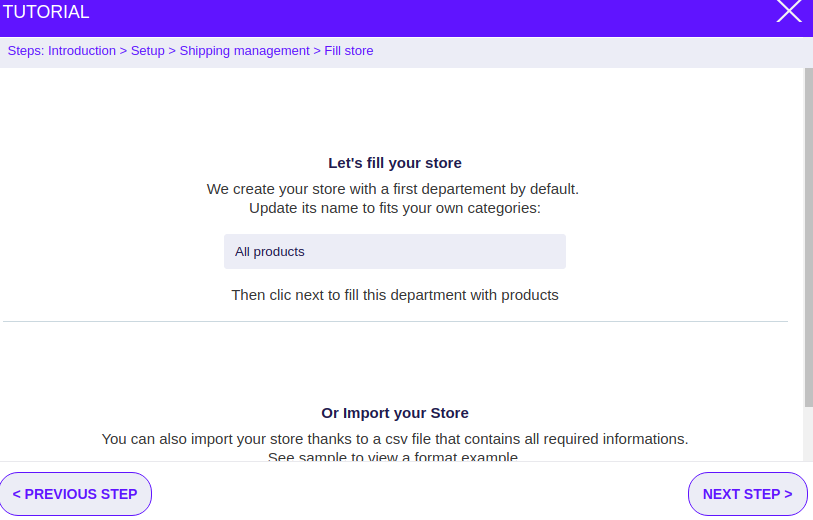 The next 2 pop-ups will give you the ability to customize your Store starting from the option adding an image or logo that will appear in top of your Store.
The second one will give three options to customize the remaining parts of Store whether Default, simple or advanced through CSS as below :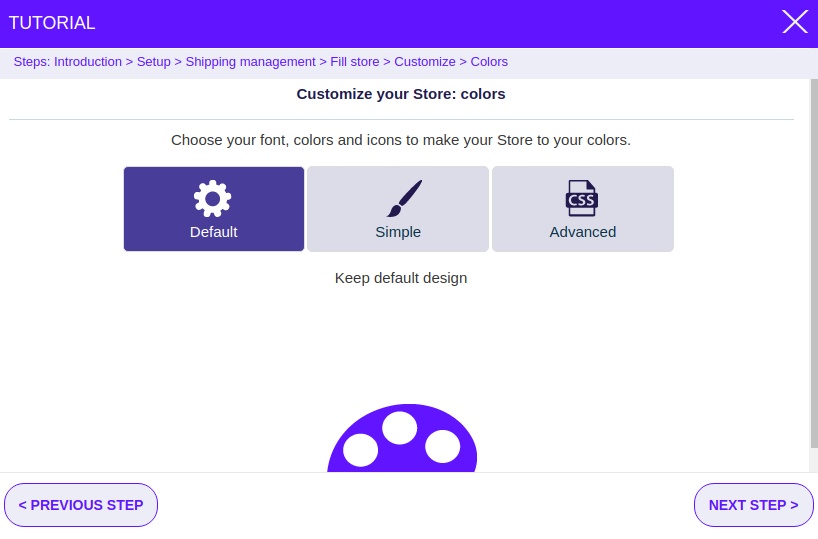 For this pop-up, after setting Store up, it is time to set up tools to engage your visitors by adding and customizing like/leadgates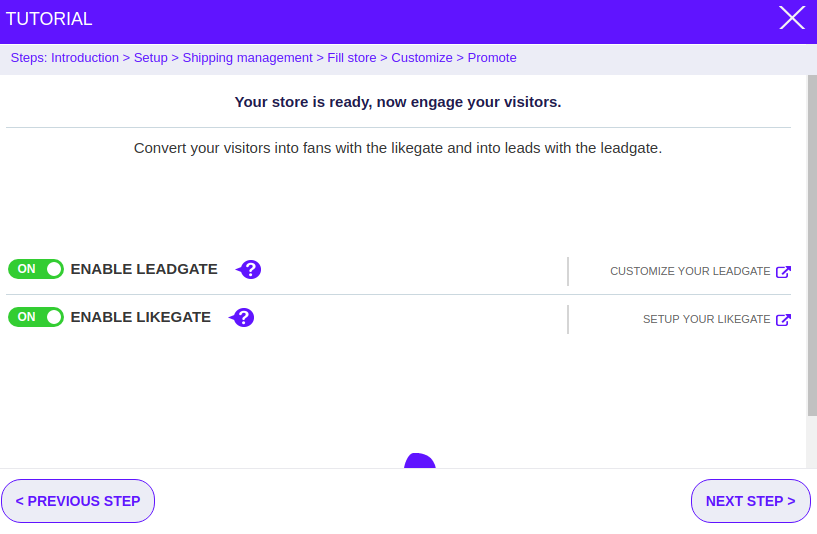 Last and not least you will get to invite your first leads to discover your just-made Store by this pop-up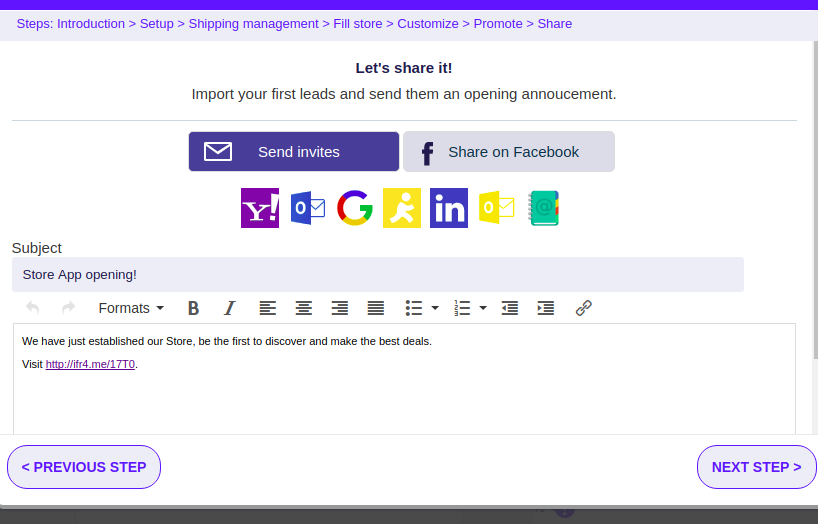 3- Adding your 
catalog
Now that your settings and shipping costs are configured, you can focus on the most important part of your business: setting up products.
There are 3 possibilities:
Automatic import of products through CSV file

Manually

The inclusion of an Iframe if you have an online store
Automatic import of online products
If you already have a shop, you can use a feed (CSV) to import them automatically. In just a few clicks, all your products are on Facebook. Select the file in your computer, then click "Save". The page will display a table in which you will have to match the headers of your file to the left with the fields provided by our application to the right (ex: Name → Name) once all the fields assigned, validate by clicking "save "

 

Add products manually
You can create your products manually. Simply complete the fields for this purpose. (Remember to fill in the required fields, preceded by a star)
We give you the possibility to create your shelves or your brands like any other online shop.
Create a department. A shelf will allow you to classify your products in order to facilitate the search for your customers.

Create a brand. Your products may have different brands. So we have a system of brand creation so that you can integrate them and your customers can choose a product according to the brand.

Create a product. Photo of product, price, target audience, reference, etc. So many things you can fill in as you like!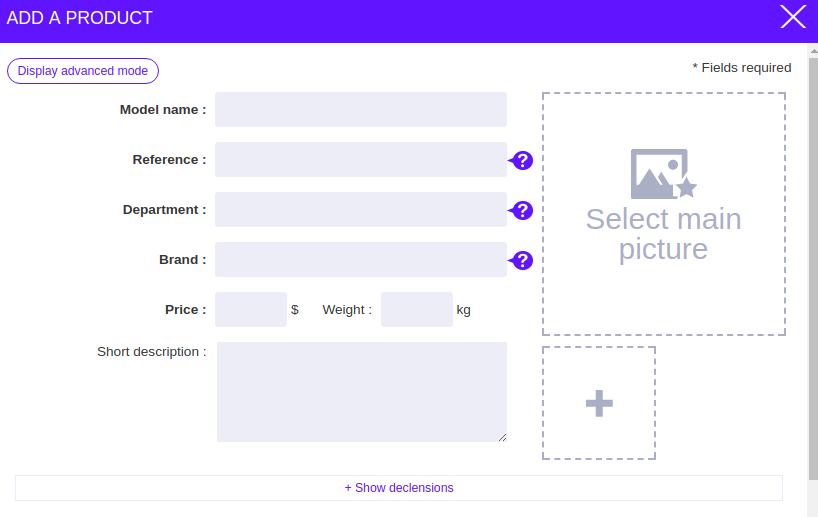 Iframe entry mode
If you already have a shop and prefer to display it on your Facebook page, the iframe method is for you! The IFRAMES allow to insert an html page in another HTML page. Just fill in the address of your site. Please note that only secure https sites can work. Buy SSL certificates

4- Manage your stock
To manage your stock, go to the product management page, you can find at the bottom of the product sheet the stock management of this product. Fill in the quantities available and stock alerts.
5- S

tatistics
You can, by clicking on statistics in the menu on the left, display the statistics of your shop: the number of visits, the most viewed objects, and more, …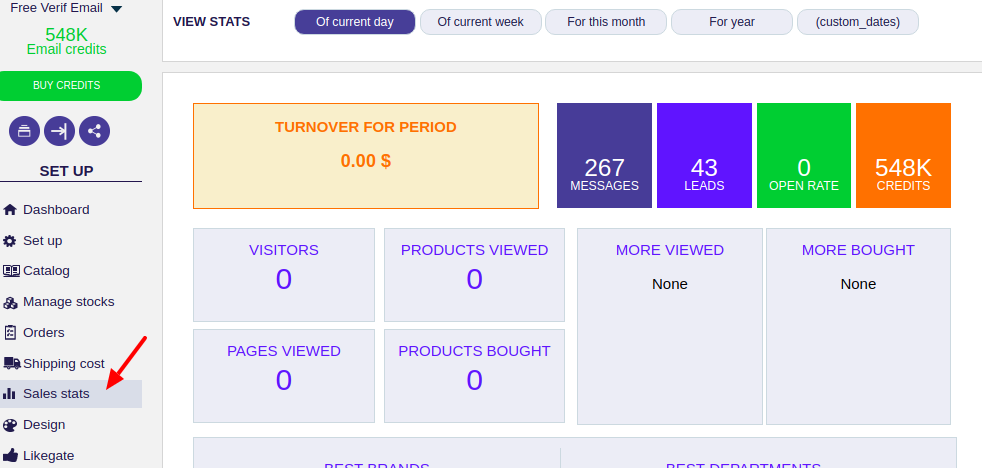 6- Tricks to sell more.
By using our Store application, you benefit from the premium subscription, this one gives you access to our application suite for your Facebook page. You can use
Automatic Newsletter to spread the news or keep your customers updated or Coupons app to retain them, and more.